Work smarter with innovative software
It is a complete Human Resources solution, where we make organizations more efficient, helping them to automate their HR processes. By creating software for a simple and more efficient way of working, we give you more time and opportunity to focus on the things that really matter, such as solving complex problems, thinking creatively or spending more time on human interaction, making your everyday life be a little bit easier.
Higher productivity
Human resources software helps professionals in the area to be more efficient in their daily tasks, freeing managers from many activities, improving attention to requests and also providing a self-service option for employees.
Cost reduction
Human resources software saves you a lot of money by automating the activities in this area, thus allowing a large company to carry out excellent personnel management without the need to hire dozens of people to do it.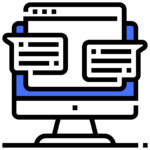 Communications improvements
Human resources software allows you to significantly improve communications between your collaborators, managers and executives thanks to intuitive tools that form groups and networks to exchange knowledge, relate and share information.
Facilitates decision making
A human resources software provides the information or data necessary to make the most accurate decisions, analyzing data that increases the opportunities for improvement in the area of ​​human resources. For example, it can help you discover which collaborators need further training, who are the top-performing vendors, who has attended all the training courses, etc.
Security in your data
Human resources software guarantees the security of your data and not only gives you the possibility of backing up each of your files in the cloud, but also restricts their access. In addition, it incorporates disaster recovery and backup features that allow you to further protect your company's information.
+16 COUNTRIES
Localized product deployments
+9,900 CUSTOMERS
With the confidence of companies around the world
+50 YEARS
Experience in payroll and human resources management