Bimser Enterprise Asset Management
Maintenance management systems are found to be the reason behind productivity and quality in modern establishments. It is not possible to control the quality and productivity of an establishment without controlling basic resources. Creating a corporate maintenance culture is only possible with the asset / maintenance management system. BEAM is the most widely used asset / maintenance management system primarily in Turkey's largest companies for its functionality, variety of reports and charts, and ease of use.
Minimum 15% reduction in maintenance costs

Minimum 15% reduction in spare parts inventory costs 40% to 80% reduction in the number of failures

Reduced time to respond to failure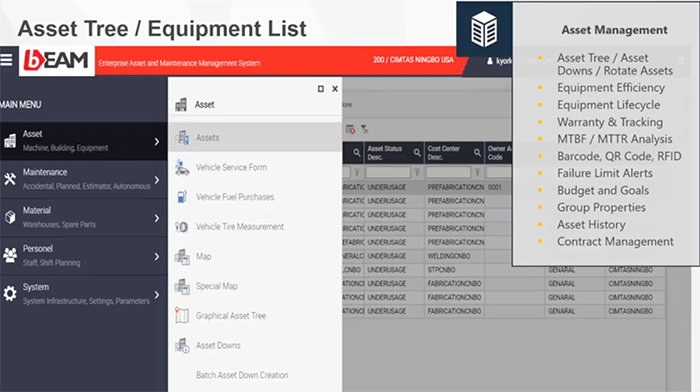 GESTIÓN DE ACTIVOS EMPRESARIALES
BEAM Asset Management System offers a single point of control by managing all types of assets (machinery, equipment, plant, building, vehicle, etc.) on a common platform.
Business Management – Effectively manage breakdown and preventative business activities from start of job applications to completion and registration of work orders. MTBF / MTTR graphical analysis.
Service management – Create service contracts, track services received as part of the business, and control costs, implement high-level notification procedures.
Contract Management – Track contracts that define purchases, asset leases, collateral, labor, and travel expenses.
Inventory Management – Get up-to-date information on asset-related spare parts utilization with BEAM that provides solutions for minimal inventory-oriented maintenance processes.
UNPLANNED / BREAKDOWN MAINTENANCE MANAGEMENT
Avoid unexpected costs in your business activities
BEAM allows you to access and manage various data, such as the log of unplanned maintenance operations, maintenance time, labor time, downtime, material cost, labor cost, service cost, total cost of maintenance, quantity of spare parts / material use, breakdown maintenance job definitions, breakdown maintenance instructions, definitions of maintenance risks in the entire work safety process and take preventive measures in the shortest possible time.
Monitorear el desempeño del equipo de mantenimiento durante un período de tiempo determinado registrando los tiempos de trabajo reales en todos los trabajos realizados, creando horarios de trabajo y mejorando la productividad al tomar las medidas necesarias donde sea considerado insuficiente.
15-30% de ahorro en costos de mantenimiento
Reducción en el tiempo para responder a fallas
Análisis preciso de los detalles de la falla a pedido
Gestión planificada y precisa de los equipos de mantenimiento.
Solución de problemas y resolución de fallas crónicas
Seguimiento del historial de fallas de activos
Reducción del tiempo de notificación de fallas a través de la aplicación móvil
Notificación automatizada de fallas de activos mediante integración de automatización
GESTIÓN DE MANTENIMIENTO PLANIFICADO / PREVENTIVO
Planifique sus actividades para una solución permanente a sus fallas temporalmente arregladas
Le advierte sobre posibles cuellos de botella y minimiza los costos relacionados con el mantenimiento de los materiales requeridos en existencia al identificar los materiales, la fuerza laboral y el equipo necesarios para los mantenimientos preventivos. Calcula el costo de los mantenimientos en moneda extranjera en función de las órdenes de trabajo preventivas y de desglose. Abre órdenes de trabajo automatizadas al integrarse con sistemas de mantenimiento predictivo. El proceso se supervisa notificando automáticamente al personal relacionado las órdenes de trabajo abiertas y el tiempo de mantenimiento.
15-30% savings in maintenance costs
15-20% reduction in spare parts inventory costs
Minimum 25% reduction in downtime
40-80% fewer failures
Ability to accurately analyze maintenance data in detail on demand
Present a positive vision of the company in terms of maintenance in audits.
Ability to plan maintenance.
Higher quality production thanks to better equipment maintenance control.
Low product costs due to low maintenance cost
CERTIFICATIONS