BPM (Business Process Management)
It is the already consolidated and unstoppable technology that is forever changing the way of managing the operations of companies and any organization in the world, allowing greater flexibility, automation and power. BPM can be defined as a new category of business software that enables companies to model, implement and execute interrelated sets of activities (i.e. Processes) of any nature, either within a department or permeating the entity as a whole, with extensions to include clients, suppliers and other agents as participants in the tasks of the processes.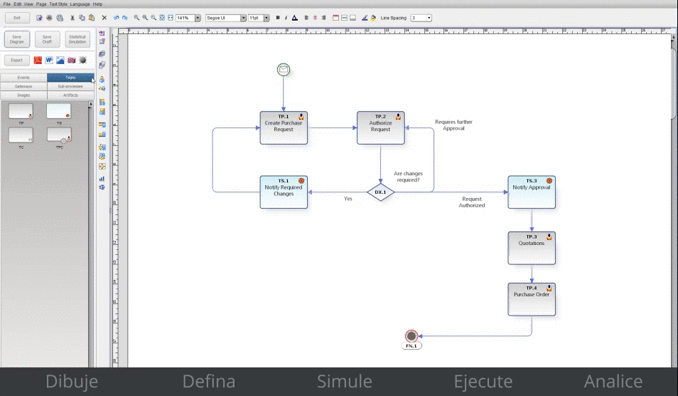 Speed up task completion
The integration of all the information of the organization will entail a reduction of the time in the accomplishment of each task.
Increase productivity
Productivity will increase between 60% to 85%.
Reduce costs and time
Costs will be reduced through proper use of all resources.
Expand business opportunities
Total and integrated automation of all your tasks will allow you to better manage your business.
Make better decisions
Use BI (Business Intelligence) to optimally manage all information and analytics to ensure informed decision making.
Improve internal communication
Centralize communication to improve in all departments of the organization.
Optimize efficiency
Thanks to the high level of automation, you will be more efficient and your employees will be able to complete more tasks in less time.
3 steps to run your BPM Modeler application
With AuraPortal BPM Modeler, the task of programming the process is completely eliminated, since when designing the process model everything necessary in terms of programming is generated automatically without the need for specialist intervention. You design the model and the process is ready to be executed. It will be ready in just 3 steps: diagramming the process, defining the attributes of the objects and execution.
Just draw the diagram. The AuraPortal BPM Modeler allows you to draw each activity and the connecting lines that establish the operational flow of the process.
DEFINE (DEFINE ATTRIBUTES)
Assign attributes to activities to make the process work. It is important to stipulate who will carry out the activity and how they should do it
EXECUTE (EXECUTE YOUR PROCESS)
Activating the designed process. In this example, completing a form will start the process.
Auraportal is an IBPMS (Intelligent Business Process Management Suite)
Intelligent process management software, an all-in-one platform, including:
AuraPortal is a software platform used by the company's management teams to transform chaos in their departments into productivity. They simply define process flow diagrams with the procedures they want their teams to follow, and AuraPortal organizes the rest, sending the right tasks to the right people at the right time. This is process automation.
Improve case results and resolution time, increase customer and user satisfaction, and maintain flexibility to tailor processes to individual circumstances. Manage complexity and coordinate tasks, processes and services to achieve a positive result. Comply with service level agreements with ease and predictability.
Delight users with attractive portals across multiple devices and respond immediately to their ever-changing needs with agility and zero-code changes on the go.
Achieve maximum business efficiency; Work anywhere, anytime, on any device! AuraPortal instant workflow application and responsive forms drive speed and efficiency with end-to-end security for a first-class customer experience.
Digital decision functions aim to inform and automate operational decisions. These decisions continue to increase in quantity and complexity due to increasing customer demands. Business decision automation is a must to keep up with changing customer needs.
Take advantage of the most complete systems to manage documents and digital content and enjoy the immediate benefits of accelerated transactions and business processes.
Seamlessly manage documents, data repositories, content, and more, combined with a powerful business rule engine.
AI can be defined as a technology that tries to explain mental functioning based on the development of algorithms to control different things. AI combines several fields, such as robotics, expert systems, and others, that have the same goal: to create systems that can think for themselves.
Easily connect data to your applications with the zero-code data importer and integrations. Integrate with the ecosystem of Microsoft, SAP, Sage, Oracle, Tableau, etc. Auraportal has the ability to modify processes on the go, something essential in today's market, which is extremely dynamic. A series of Business Process Management (BPM) solutions with tips to ensure a successful implementation and achieve your business goals.